Meet our new Year 3 class

BAWNACRE FUN!
We had a great end of year trip.
We carried out an experiment learning about volume and estimated how much liquid different sizes of containers would hold.
Everyone is admiring your creative boats.
A lot of hard work went into the making of these.
Thank-you.
Our topic is WATER!
We are exploring through our Activity Based Learning.
Have a look at what your child has been learning.
In our Number work we are learning about Sharing equally (Division). We used cheerios and shared them equally between 2 groups. After we completed all our sums we shared 24 cheerios with our partner and ate them! They were yummy!
Year 3 had a fantastic morning at Enniskillen Agricultural College.
We went on a long walk and saw some beautiful scenery, we used rainbow stickers to collect lots of colours in nature, we did some pond dipping and used Listening Jewels to hear sounds outside. It was great being outdoors!
Year 3 planned, prepared and enjoyed a special picnic during the week. Did your child tell you about the special visitor?
We are very proud of our hard work in Year 3!
Each of us researched minibeasts for homework and created all sorts of wonderful ways to present our information to our class! We are super clever in Year 3!!
Happy Easter to all in Year 3. We hope you have a lovely and that the Easter Bunny comes to you all!
Activity Based Learning through our Growing topic.
Have a look to see what we have been learning.
We are carrying out a growing experiment using a pea seed.
Ask me what we are finding out?
Double click the Accelerated Maths icon below to start your maths practice at home.
Start by clicking on I am a student. Enter your username and password.
Click on the green icon Accelerated Maths.
Beside group click on the drop down menu and select your group.
Click 'Start' under the Practice section.
Good luck and any problems please ask the class teacher.
A Big Thank you to Sebastian's mummy, Poppy's dad and Caleb's mummy for coming into our classroom and reading us a story on
World Book Day
Kevin Mc Hugh local illustrator made a special visit to Year 3. He used ideas from the children's imagination to create these images. Kevin read one of the books which he illustrated to the children.
PANCAKES, PANCAKES AND MORE PANCAKES!
Ask me what I had on mine!
We used junk art to make musical instruments in Year 3.
We went on a musical march around school with our instruments. It was noisy but lots of fun!
3UO'D made bird cake, hung them on the trees, did some bird watching and took part in the RSPB big schools bird watch. Ask me the type of birds I saw and how many of them.
#SaferInternetDay2019
We watched this video for Safer Internet Day and found out some very important messages.
Click the video below to watch.
Sarah-Jane Beacom from Fermanagh and Omagh District Council visited Y3 and spoke to the children about common garden birds and how to help them through the winter season. We made fat balls to hang on the trees, bushes and hedges in our school grounds. Ask your child did they enjoy the activity!
Our new topic is
SOUNDS AROUND US
We are having lots of fun in our Activity Based Learning!
We visited TESCO to conclude our 'FOOD' topic. Thank-you to Martina and Gus who gave us a guided tour and we were able to sample some bakery treats and all of the children were given delicious fresh fruit as well.
We designed and made a bag to hold an apple. We tested the bags for size and strength.
Simon Harron from Asda visited Year 3 today and made smoothies with us. He had lots of different fruits with him. We chose our favourite fruits and juices for our smoothie and Simon made it for us. The smoothies were yummy.
We were working with 2 wires,2 batteries, a bulb and a bulb holder. We worked together to light a bulb.
We had a visit from Colleen today. She is a dentist.
Ask your child how long they should be brushing their teeth for each time?
Numeracy: Measuring the length of our friends foot!!
Can you find the missing numbers on the 100 square?
Our topic:
Me and My School
Look at us during Activity Based Learning. Ask me what I was learning.
Have a look at our shared poem.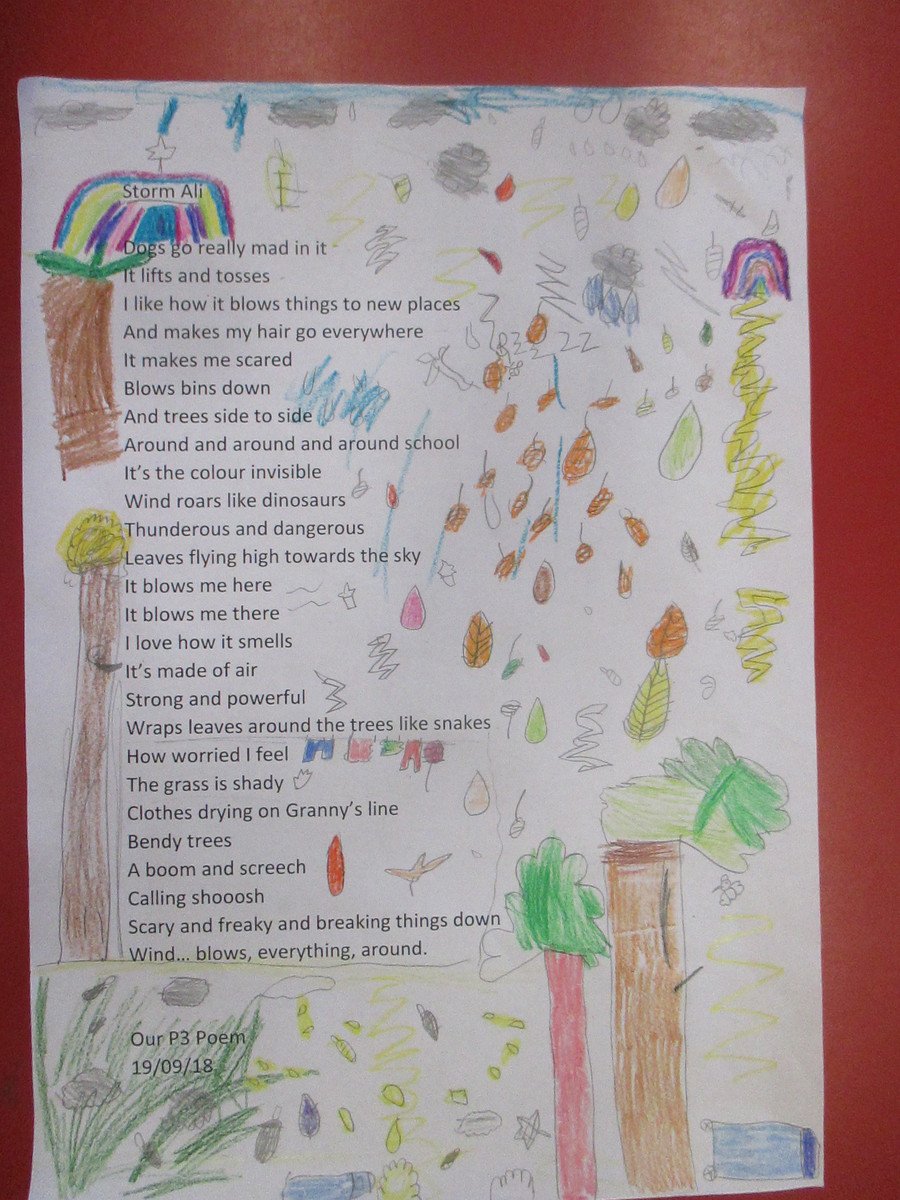 Can you find the hidden bones on the 100 square? Click on the link below to try to beat the timer!
Year 3 are using numberlines to add and subtract.
Click on the link below for a fun number game.
Money, money, money!
Identify the coins and pay for the items in the shop.
Click on the link below.
Click on the link below to practise your shapes
Help your child to order these numbers from smallest to largest and see what prize is inside the safe. Click on the link below.
We have been exploring this website and have found it very useful. Please explore this website with your child you will have lots of fun.
Help your child to order these numbers from smallest to largest and see what prize is inside the safe. Click on the link below.