Congratulations to our whole school. We have been awarded our 4th Green Flag. Thank-you everyone for the team effort.
Today we celebrated our Green Day
This was to mark the end of our Eco Week 10th-14th May 2021.
Have a look at everyone in green and thank you for all your contributions to our Eco school programme.
On Wednesday 12th May we encouraged children taking packed lunch to bring their lunch in an Eco-friendly container as a way of reducing single-use plastic on this day. Thank-you for all the children who took part.
We are keeping an eye on all that is growing in our polytunnel. Many thanks to Mrs O'Shea and Year 5 pupils for their daily care and attention.
Eva Year 7 donated these growing bags. The children will grow vegetables. Thank-you for your contribution.
Well done to everyone in our school community for participating in this worthy cause. We raised £2,660 for Marie Curie Cancer care. As well as raising a substantial amount of money, we also enjoyed walking in the fresh air and improving our mental health and fitness.
Year 3 enjoying their daily mile walk during Eco week.
As part of Eco week Year 3 completed a recycling activity. We discussed different ways of recycling objects from our households and the children decided which bin the objects went into.
Our Bug Motel is getting ready for lots of visitors in our school grounds. Our Eco team have been busy adding lots of attractive materials to welcome the guests.
As part of
Eco Week 10th-14th May
every child has now received a water bottle in our school. Try to bring this reusable bottle everyday.
Year 3 completed fabulous research projects on our topic 'Growing'. We are very proud of you all.
Big Spring Clean
Year 5 took part in the 'Live Here Love Here' Big Spring Clean initiative.
Year 3 have been busy researching our 'Growing' topic and have made projects.
Have a look at some below.
Well done Year 3.
National Geographic -
FREE Access!!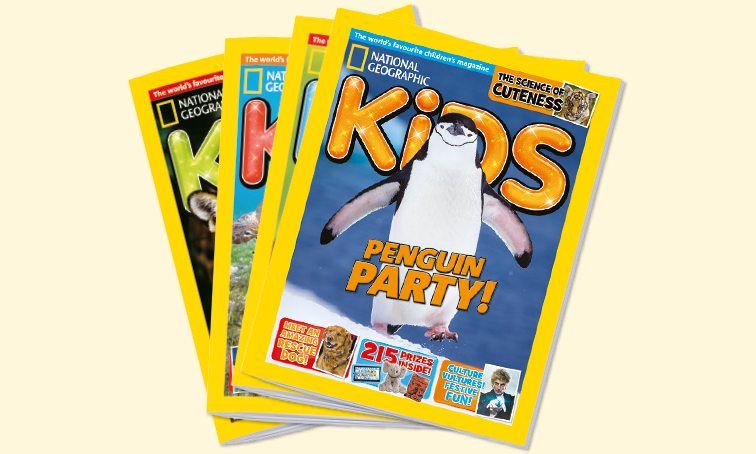 National Geographic Kids UK have made access to their digital edition absolutely FREE for three months (expires end of June)! Providing content that engages and inspires kids about the world outdoors – even when they're stuck indoors!!
Click on the link below to access EVERY issue dating back to 2016!
https://digital-uk.partica.online/uk/uk-july-2020/flipbook/1/
Be a Wildlife Hero with your
Wildlife Trust!
The Wildlife Trusts is a movement of
people passionate about nature. They
are local charities, formed by people
to make a difference where they live, and all working together for the wildlife of the UK.
Wherever you are, there is a Wildlife Trust saving, protecting and standing up for wildlife and wild places near you.
https://www.wildlifetrusts.org/wildness
Please
choose an image.
Important Notice about water!!
URGENT- Action required now for all customers in ALL AREAS across NI to reduce water usage immediately
The hot weather is putting pressure on the water supply. If it's not essential, waterni ask that you please don't use it at this time. Water is precious and waterni appreciate your help in continuing to deliver what matters.
Copy and paste the link below in a new tab to find out more!
https://www.niwater.com/home.aspx
Introduce your child to the world's most exciting nature magazine!
Tens of thousands of children have joined us on Eco Kids Planet since its birth five years ago. We take them on an extraordinary green adventure to explore wildlife secrets, struggles and super-skills. We discover green forces that help us take care of our planet.
Eco Kids Planet makes an ideal gift for nature lovers aged 6 to 11. Sign up today and get your first PURR...fect issue for free.
Start your child's green adventure today!
Highlight the link below and copy and paste in a new tab!
https://www.facebook.com/221037158097565/posts/1275877702613500/?sfnsn=scwshmo&extid=qcYjLkxtKjxjF44W
We really enjoyed our Fairtrade hot chocolate and cookies. Thank you very much Jenny!
As a result of Eco Week, we made a plastic pledge on the Live Here Love Here Eco website. Please see below - this is what it looks like!
Year 3 made bird cake for the birds in our school grounds.
We are taking part in the
Big School's Bird Watch
as part of Eco Week!
We will send our results to the RSPB.
Walking to school in our bright and reflective clothing on
'Ditch the Dark Day'
This weekend 25th - 27th January the Big Garden Birdwatch takes place. Spend some time looking out for the birds in your garden. Try to see how many different types you see and send the results into school!
Look at our lovely new garden signs!!
A BIG Thank you to the parents who came into school last Friday 27th September. We really appreciated all your help with weeding, planting, cutting and revamping our signs. We harvested the vegetables from our polytunnel and garden beds.
Mrs O'Shea kindly made a beautiful wholesome, tasty soup for the staff using tomatoes, corn, chillies, potatoes and courgettes collected from our garden.
Blue day.
We recently held a whole school blue day where the children learned about the importance of water in our daily lives and carried out some fun activities.
We had a very productive day in our school garden!
With the help of Colin, our Parent volunteer, and his kind donation of plants, each class weeded, planted and watered our new seeds and seedlings.
We will water them regularly and watch them grow!
Year 4NN were busy planting new seedlings in our garden on 1st May.
Let's get growing!
We had a Parent Gardening morning, today 12th April. Some Parents kindly donated bedding plants to brighten our school grounds. We now have a new Water irrigation system in our polytunnel thanks to Colin. Thanks also to Wayne for moving and sorting out our compost bins!
Year 5 litter pickers also helped out.
Look at the before and after pictures!
Thank-you to all the children and staff that bought a Fairtrade bun today. We raised £192.00 and this will now be sent to Fairtrade Farmers.
FAIRTRADE FORTNIGHT
Fairtrade fortnight starts today and runs for 2 weeks. The Eco team held an assembly this morning and the whole school watched a video about the Cocoa bean and how Fairtrade helps the farmers. The Eco team are having a bun sale next Friday the 8th March. The buns will be made with Fairtrade chocolate and they are 50p to buy. Please support this worthwhile venture.
Year 3 took part in the RSPB bird watch and submitted our data on the RSPB website. Both Year 3 classes collected the data together and below are our results.
The Eco team had a visit today from Anna Killen from NI Water. She spoke to the Eco team about the importance of water. E.I.P.S have pledged to become a refill school and help reduce single use plastic bottles. Every child will be given a water bottle next week which they can use everyday in school!
REFILL FREE CLEAN THE SEA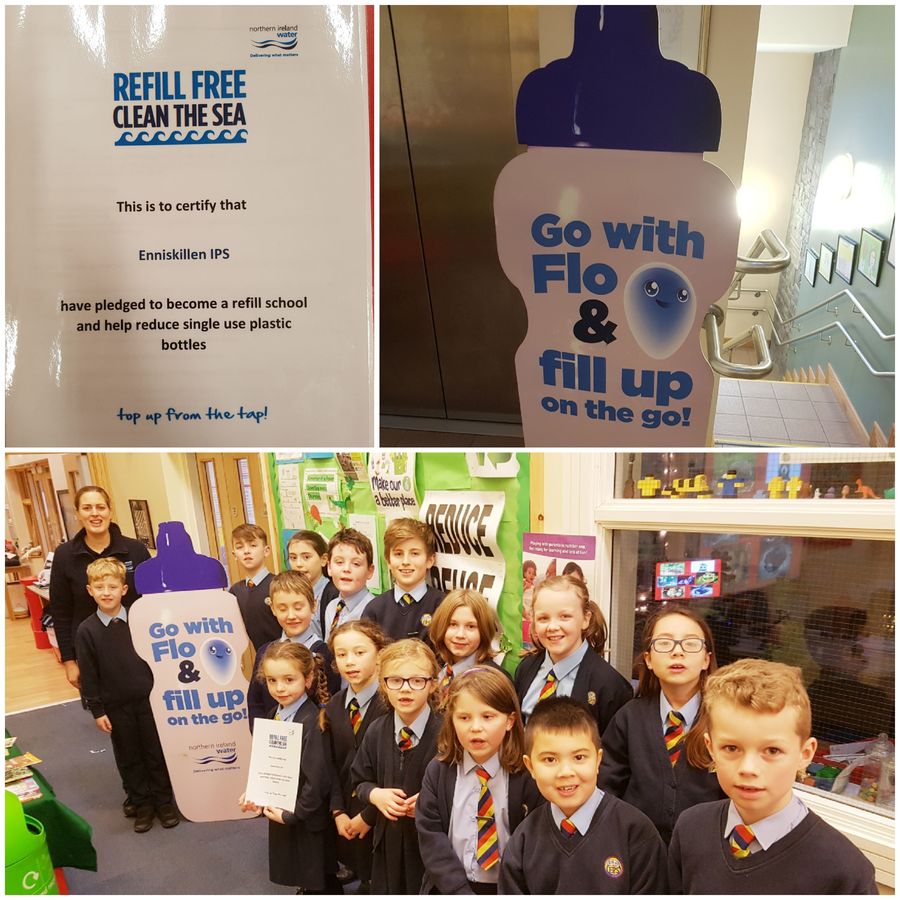 KS1 had a visit from Claire who is the Recycling Education Officer working in the Fermanagh & Omagh district council. She told us some interesting facts about recycling and gave us all tips for better recycling!
Cash for Clobber came to our school and collected lots of bags - Thank you for your donations!
On Tuesday 22nd May our Eco-team were invited to International Biodiversity Day which was held in the Enniskillen Castle Gardens.
World Water Day 22nd March 2018
We raised £340.00 for WaterAid.
Thank you for your donation!
Water Aid is a organisation which helps people who need water in countries suffering from poverty. They provide them with wells, so they can drink clean water, and they are able to bathe in clean water.
THANK-YOU for helping this worthy cause!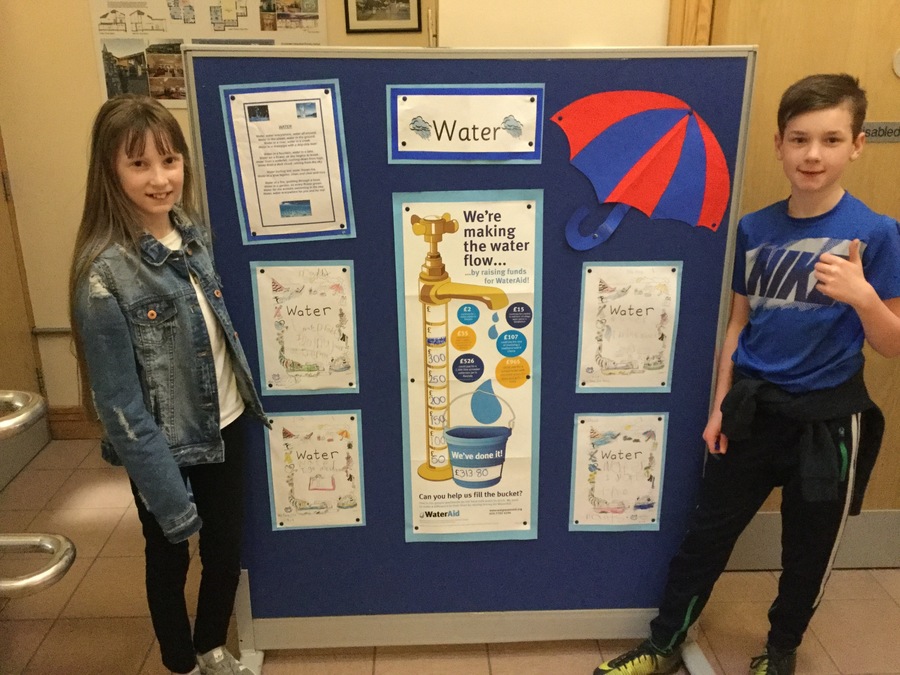 We recently took part in the Trocaire Better World Award through our Global Learning initiatives.
We have gained the award and thank all the parents, staff and children for their hard work.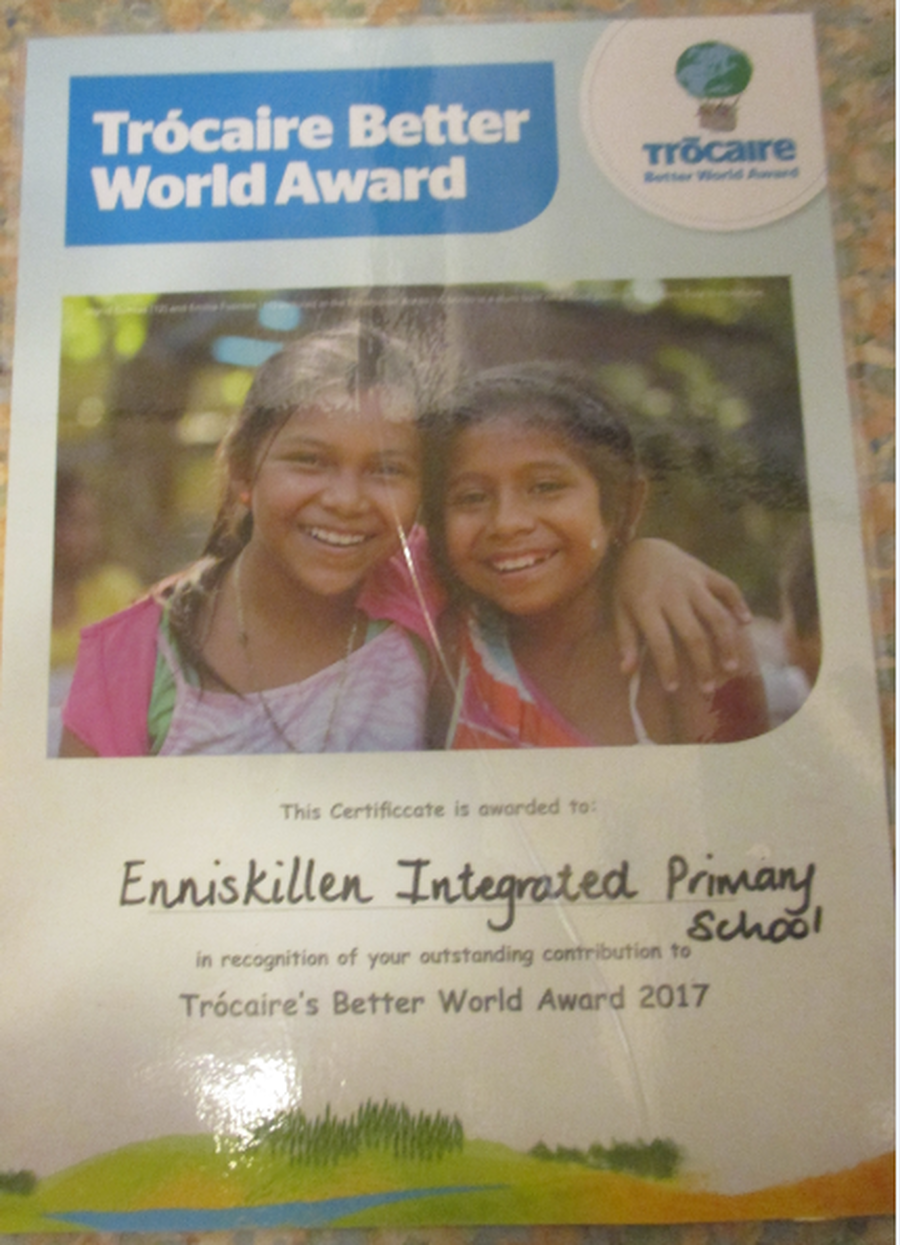 We are now at Level 2 of the Global Learning programme.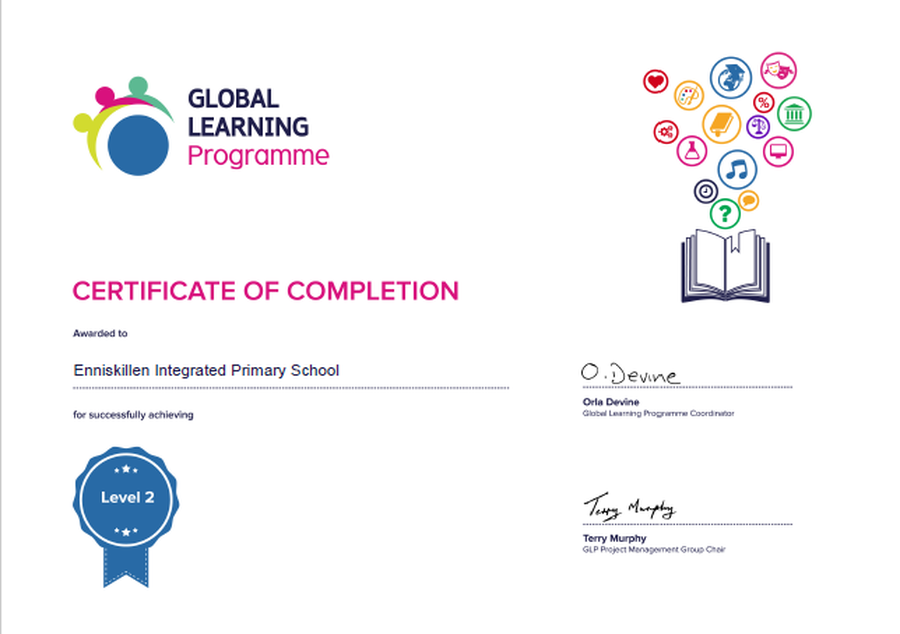 E.I.P.S is now a Fairaware School. We support the purchase of Fairtrade products. Fairtrade fortnight is on 26th February - 11th March. We would encourage families to look at Fairtrade foods.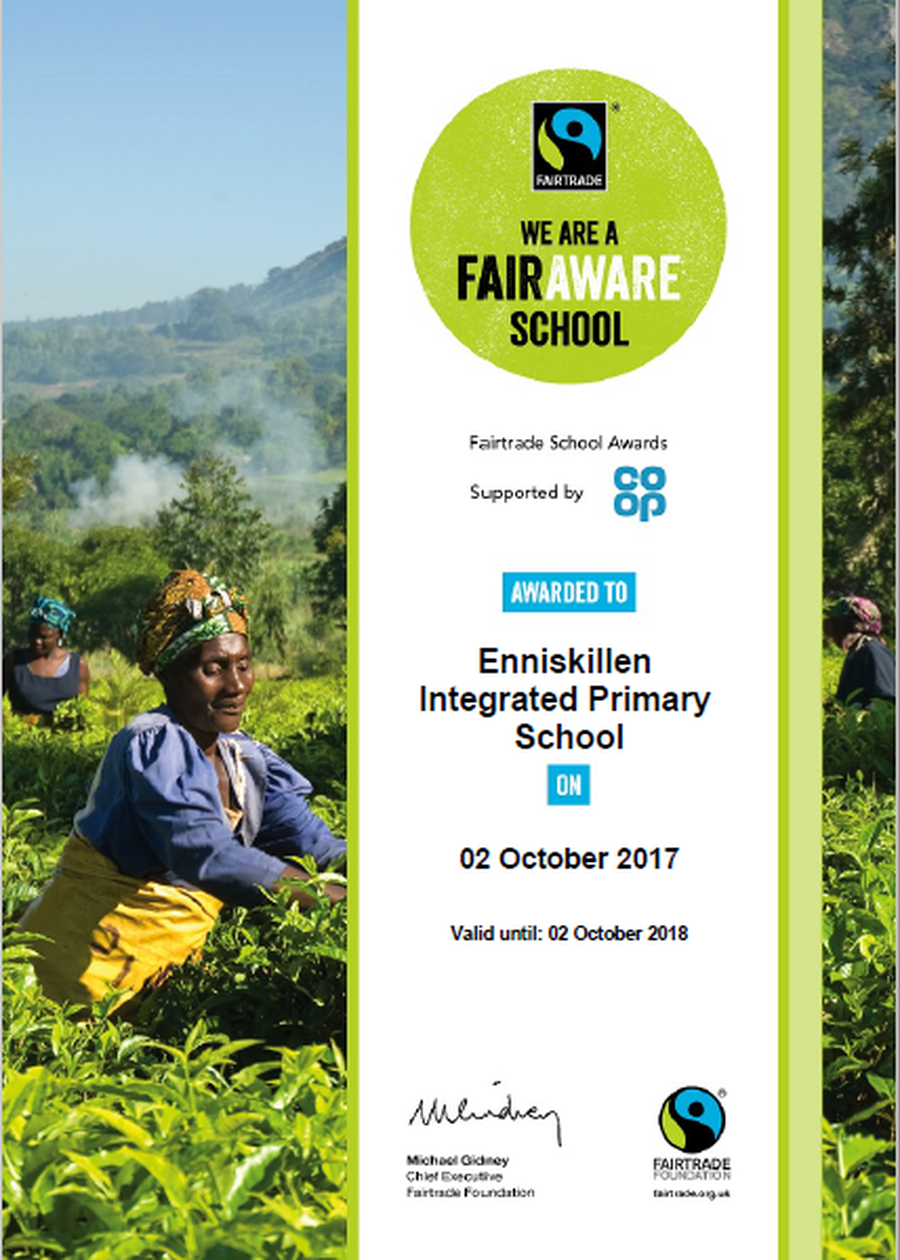 Ditch the dark day 2017
Thank you to all the parents and pupils that walked to school. It was a successful morning with children and adults dressed in bright coloured clothing.
Year 5 have been working on some research about the plight of the bees. They got to design and paint the newest addition to the E.I.P.S family. We are still deciding on a permanent home for our bee. Well done Year 5.
Recycling competition.
Thank-you to everyone who made a special effort to enter the Eco-recycling challenge. You have brightened up our school grounds with all your hard work. The Eco team chose the winning entry and they received a voucher for Craigville Garden Centre. Thank-you for your continued support.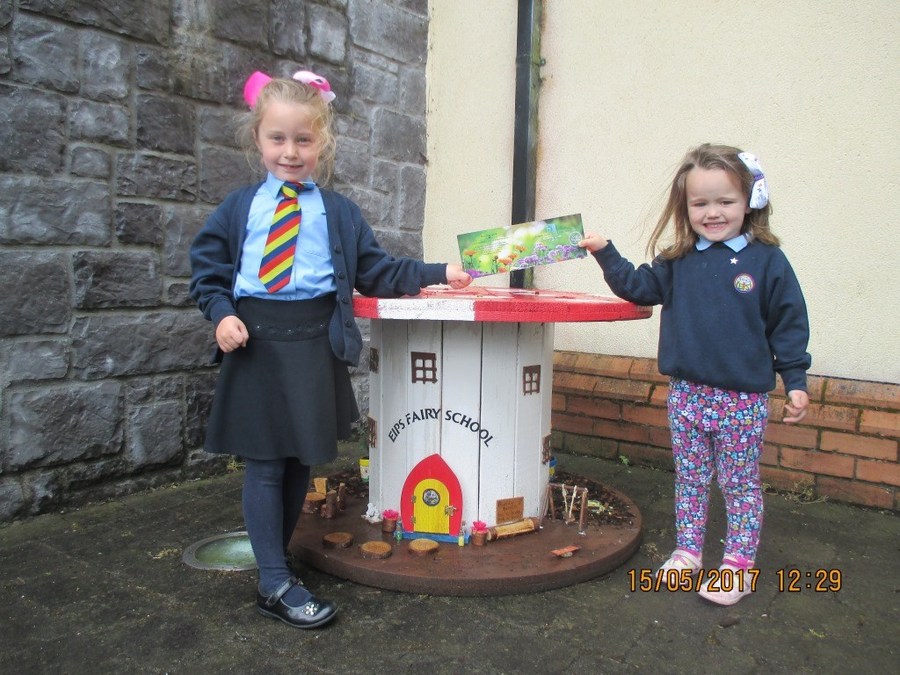 A Big Thank you to everyone at EIPS for supporting
'The Humble Toothbrush'
We sold over 200 tooth brushes!
Every toothbrush sold helps children in need participate in a comprehensive preventive oral care programme run by the Humble Smile Foundation,
a non-profit organization registered in Sweden.
Please support Fairtrade!
Members of the Eco Team attended a Fairtrade event at the Lakeland Forum. We met the Chairperson of Fermanagh District Council and we listened to Harris who is a coffee farmer from Nicaragua.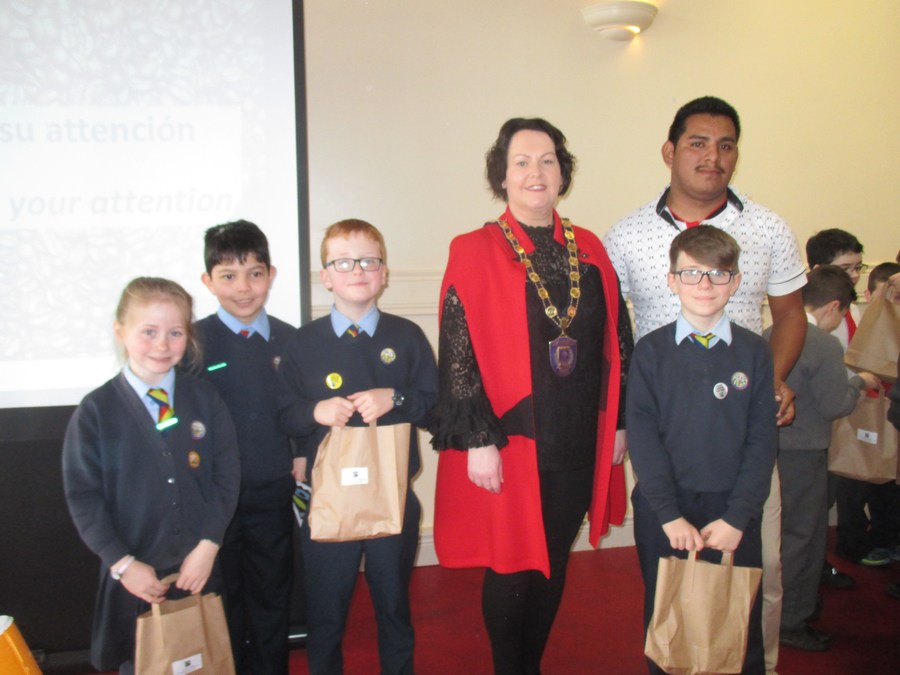 Click on the 'reduce, reuse, recycle' image to view a guide to recycling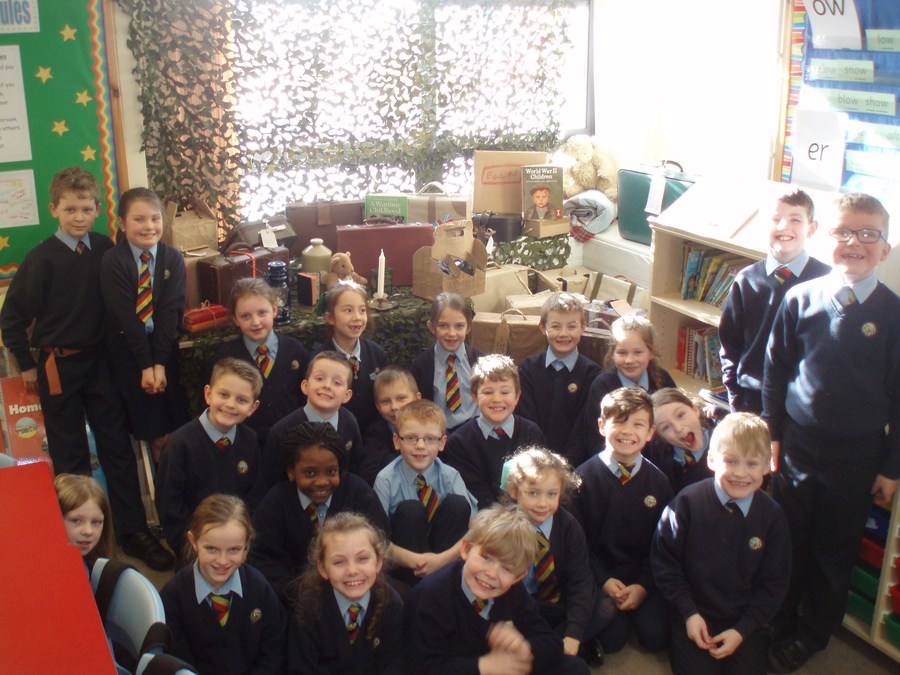 Year 4 are learning about World War 2
Year 4 went on a research walk through our local area and created a map of
'Our Locality'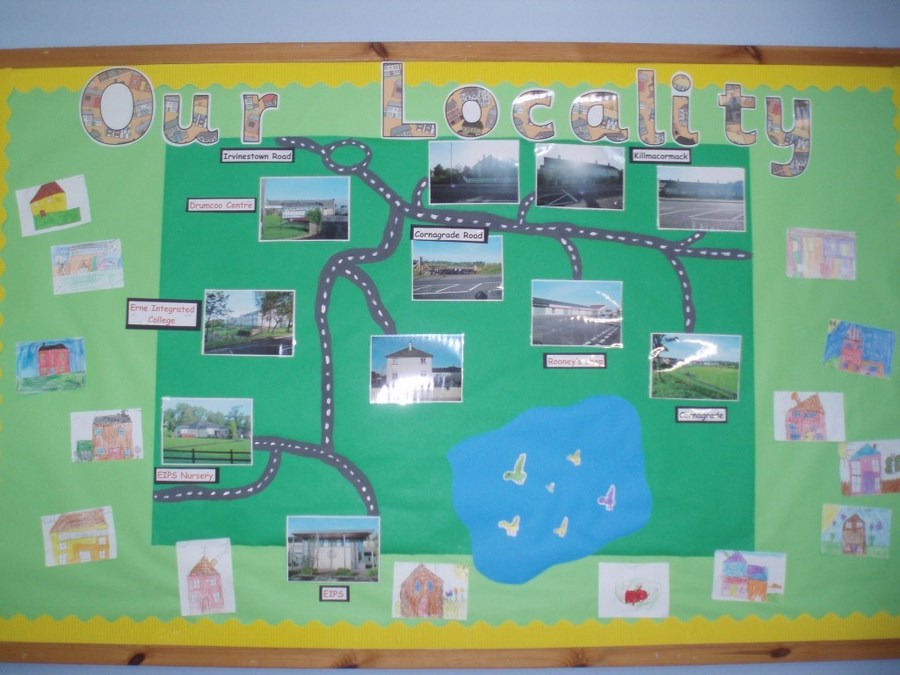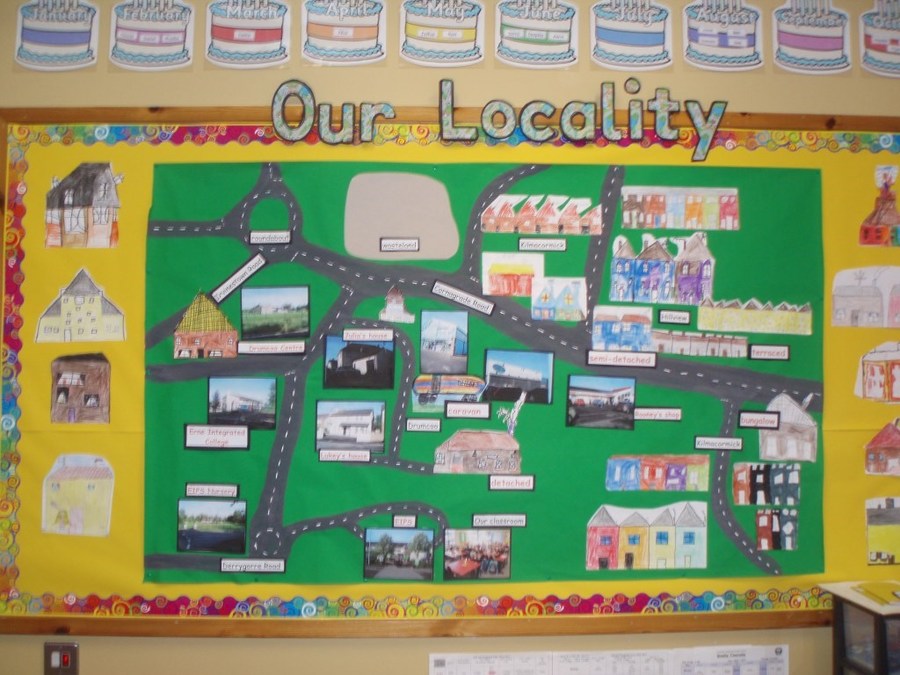 Nursery Recycling
At Nursery, we sorted our recycling materials into two piles - milk cartons and cardboard, then we went over to the 'big school' and put them into the recycling bins!
Nursery children planted daffodils both in pots and outside in planters. They were able to list all the things you need to plant flowers. Well done!!
Nursery celebrate Earth Day.
The afternoon session planted shrubs and tress to celebrate Earth Day.
They are small now but they will grow bigger.
As we grow during our time at the 'big' school we will watch how big our shrubs and trees grow.
Nursery Leaning outdoors
We have been so busy!
The morning session have planted lots of vegetables.
First we planted lettuce and spring onions.
We have to keep them warm each night as the frost might harm them!
Then we planted radish, beetroot and spinach.
We have been watering our vegetables.
They are beginning to sprout and now we have to look after them at home.
April is the month for weeding, planting and growing. The children have started this process.Let's hope we see lots of growth.
Our picture was featured in the Fermanagh Herald newspaper.
Year 3 Eco team met Pat from the Water NI and received a reusable plastic water bottle for every child in our school. These will be distributed at the beginning of Eco week Monday 10th - Friday 14th May 2021. Pat kindly donated a large water butt for our school garden. Many thanks.
Our Eco team took delivery of a new Bug Motel this week.
We cannot wait to decorate it and welcome new guests to our cosy Motel.
Many thanks to SGN Natural Gas.
E.I.P.S became a school partner to the Hygiene Bank Enniskillen. We have a drop off point at the front door of the main school entrance. Many thanks to all who donated and these kind donations have been gratefully received by people in our community.
21st-29th November 2020 is European Week for Waste Reduction (EWWR)
During this week our school pledge is to:
Reduce paper waste with online activities/ homework

Compost fruit and vegetable peelings from our school kitchen

Reuse waste materials for crafts

Refill plastic water bottles

Have Recycle bins in classrooms

Have Scrap Paper trays in classrooms

Promote zero waste dinners and lunch

Promote EWWR on the school / Eco board

Display EWWR poster in the school

Have a recycle bin in school playground
Please discuss these pledges with your child and encourage waste recycling and reduction where possible.
Many Thanks!!!
E.I.P.S have been awarded their 3rd Green Flag! Congratulations to the whole school and community who contribute to our Eco success.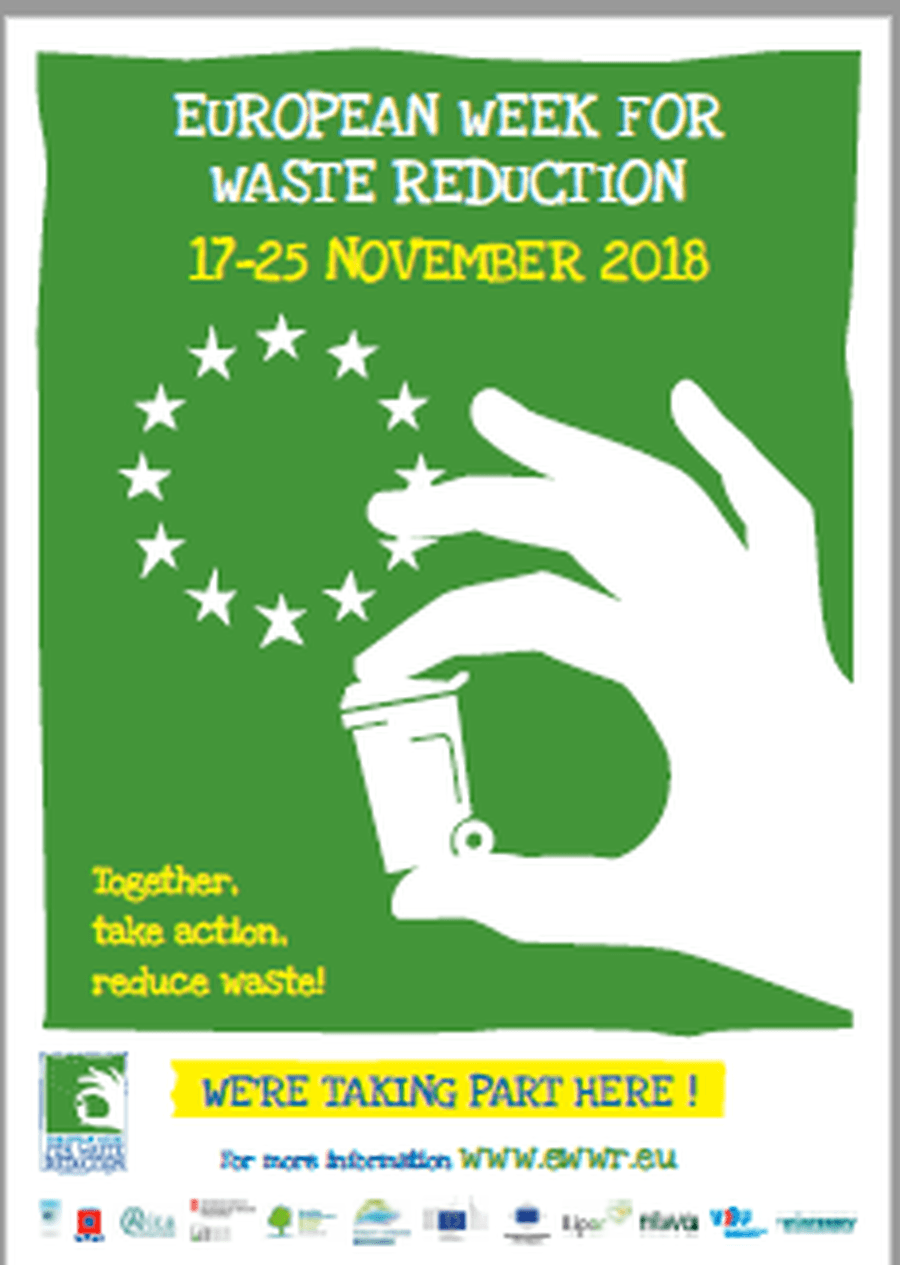 E.I.P.S have made a pledge to encourage pupils to bring in used batteries from home for us to recycle in school and also to refill plastic water bottles.
September 2017:
Thank-you very much to all those families who made donations towards our school grounds. Thank you to parent volunteers who worked extremely hard all morning. Our school grounds look stunning!
We are delighted to announce we have received our second
Eco Green Flag!
The assessor was very impressed with the work being carried out and said it was "outstanding".
Huge congratulations to the Eco team, staff, children, parents and Board of Governors who continually support our Eco School.
Our Eco-team had an exciting morning at Enniskillen Castle planting bulbs.
We had a very successful Green Day on Friday 3rd March.
Thank you to everyone - parents, staff and pupils for wearing green, planting seeds, putting out bird food and helping to make our school grounds look so neat and tidy.
A big thank you to the staff and pupils from Erne Integrated College for helping the Year 5 pupils with litter picking.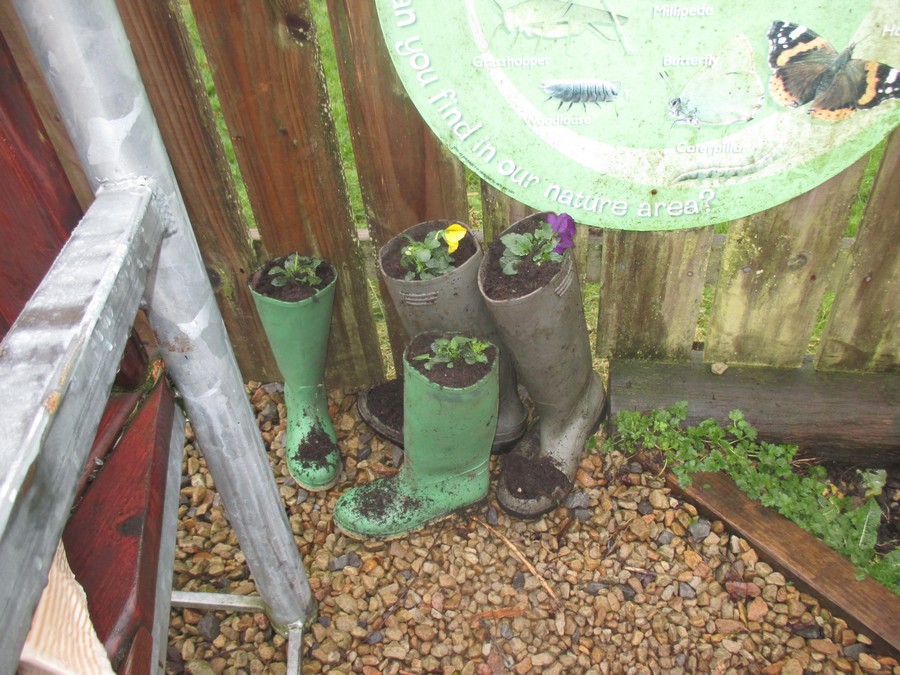 Nursery children have been very busy planting a variety of Spring flowers
Fairtrade Fortnight takes place between Monday 27th February and Sunday 12th March.
At Assembly our Eco Team showed a short video about the journey of a banana. They also showed a Powerpoint presentation on the importance of buying Fairtrade foods to ensure that farmers get a fair price for their hard work!
Please support Fairtrade during these 2 weeks!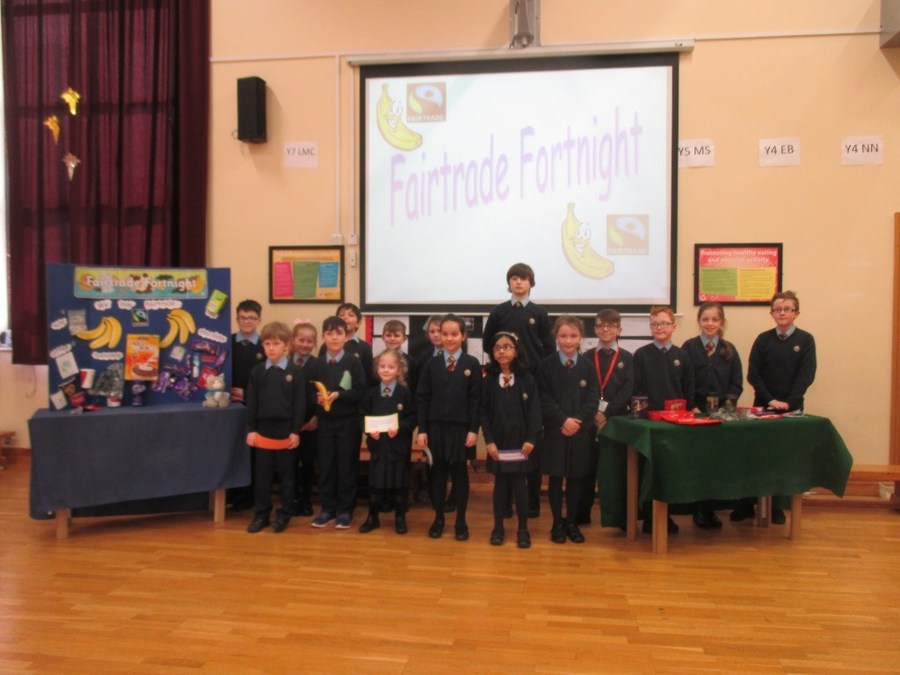 On Friday 2nd December we participated in Ditch the Dark Day.
We walked, cycled or scooted to school wearing brightly coloured clothes to make us visible in the dark.
Well Done to everyone who took part!
In October we participated in The 90 Kg Rice Challenge. We had the job of selling 90 Kg of rice at £3 each. The rice was sent to us from the farmers in Malawi who are struggling to get a fair price for it. They will use the money raised to send a child to Secondary school for a year as children in Malawi do not get free secondary education.We sold 135 kg and raised a grand total of £405. The money raised from this venture will help to send a child in Malawi to school for a year and a half. We are very proud of this achievement and would like to thank everyone for their support in this worthwhile cause!
CASH FOR CLOBBER recently collected all your donations. In total the bags weighed 200Kg. They are now on their way to help families who are in need. Many thanks for your continued support.
A BIG THANK-YOU to everyone who helped support our Green Day on Friday 6th May. It was an extremely successful day and the sun shone down on us all. We raised £120.00 from the donations which helped buy seeds, soil and plants.
Smoothie Bike
Anne-Marie from Sustrans came into school with a special bike- a smoothie bike!
We pedalled hard to make our delicious smoothies and then enjoyed tasting them.
Tiana-Grace Abbott represented our school in the recent Fermanagh District Council Youth Speak Competition. The theme this year was;
"The adventures of a waste warrior"
Well Done to Tiana-Grace for her hard work in preparing for this event.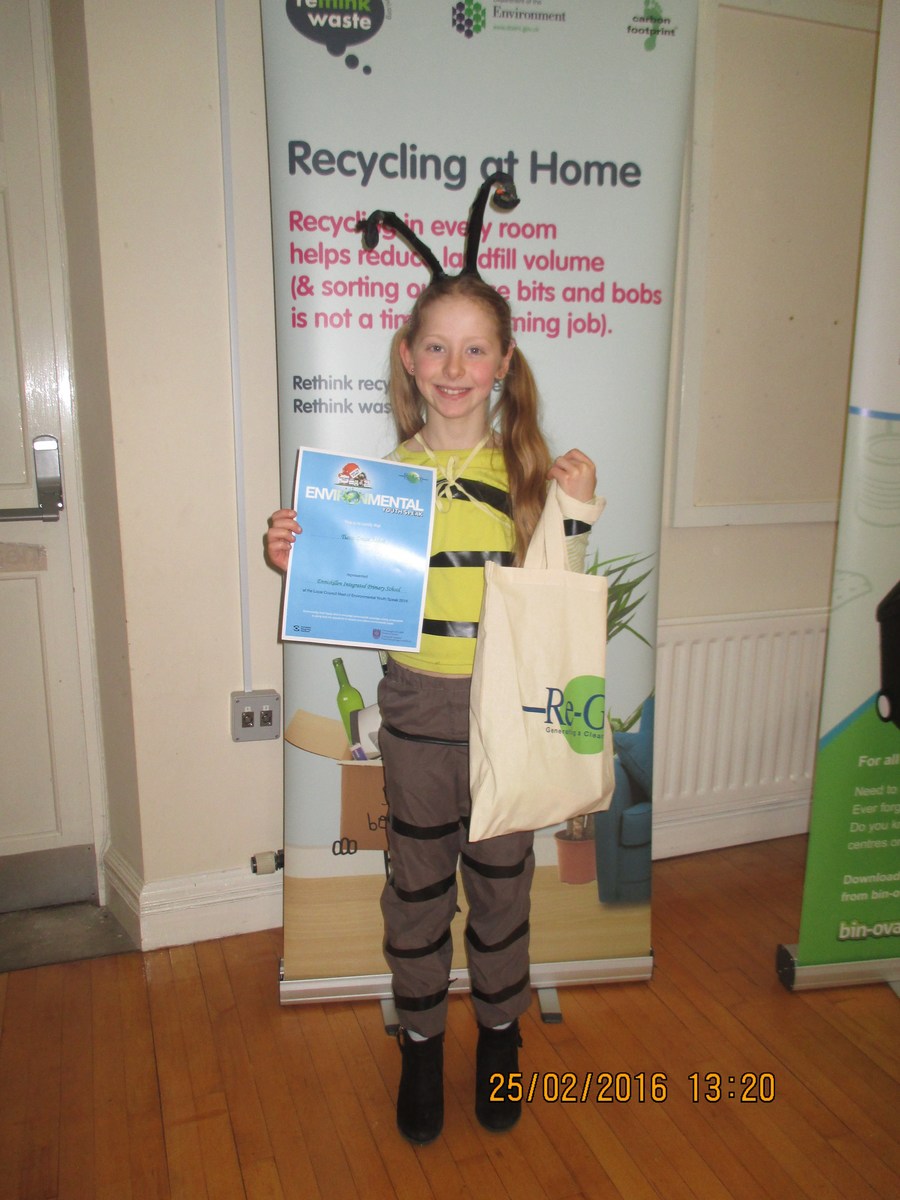 Humble Helpers
Our school will be taking part in the 'Humble brush' initiative, a bio-degradable bamboo tooth brush that is kind to the environment.
Two of our eco members attended a launch morning in the Killyhevlin Hotel.
More details to follow.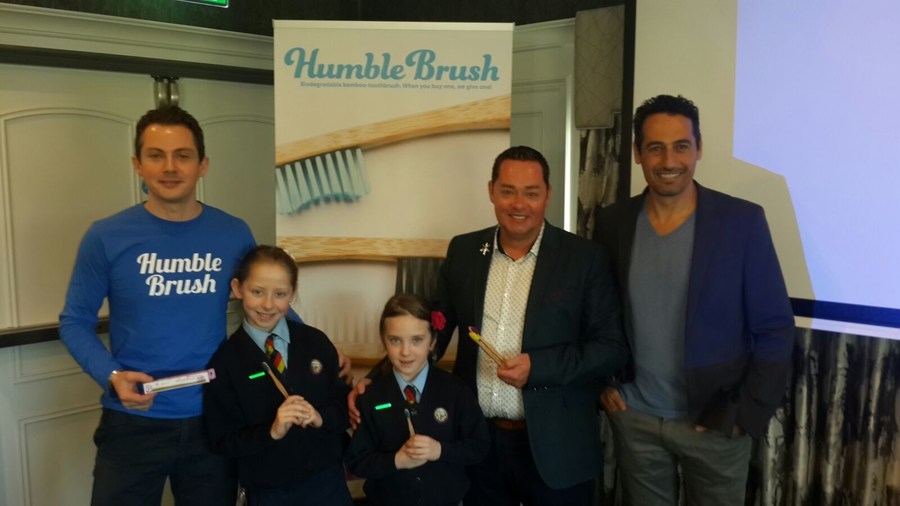 DITCH THE DARK DAY!
As part of our Sustrans Active School Travel Programme we had a very successful morning where the children dressed up in bright clothing to be seen when walking, cycling and scooting to school. Well done to everyone for a successful event.
We had a very successful Eco clean up day last Friday. Everyone worked extremely hard and the results were amazing. Thank-you to all the parent volunteers who gave up their time. We really appreciate your help.
A big THANK-YOU to everyone for clearing out their cupboards and sending back in the Cash for Clobber bags as well as black bin bags! Your donations have been collected today and will all go to valuable use.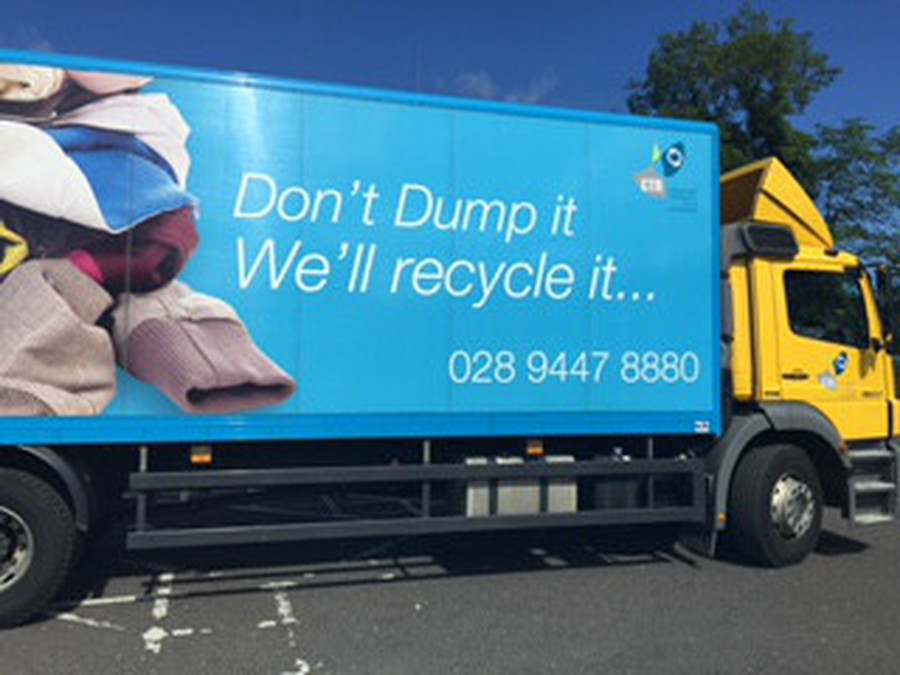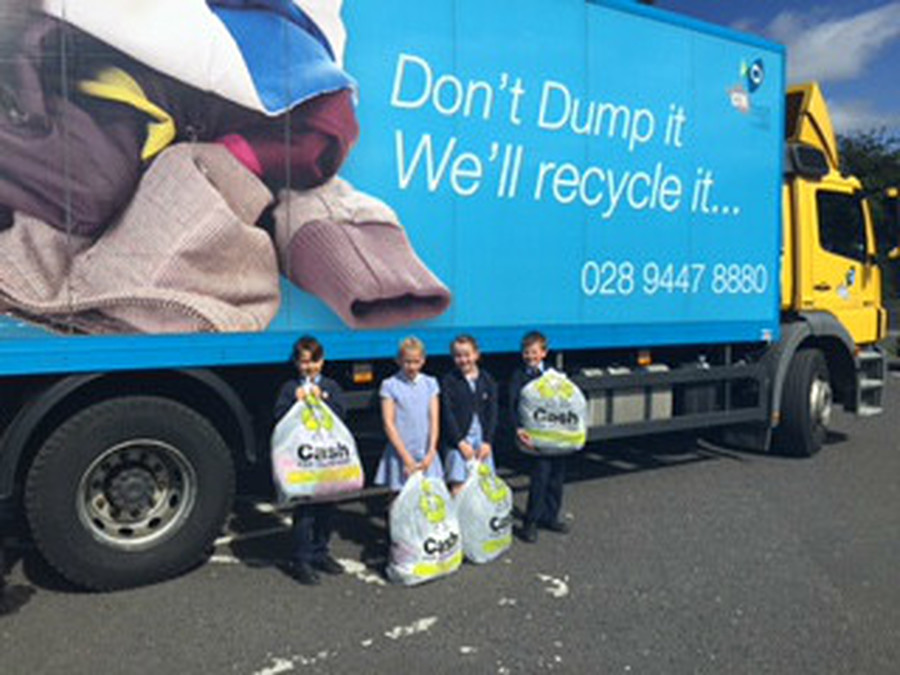 On Thursday our school achieved 'The Green Flag'Eco Schools award. We are absolutely delighted and want to thank everyone for their hard work and dedication.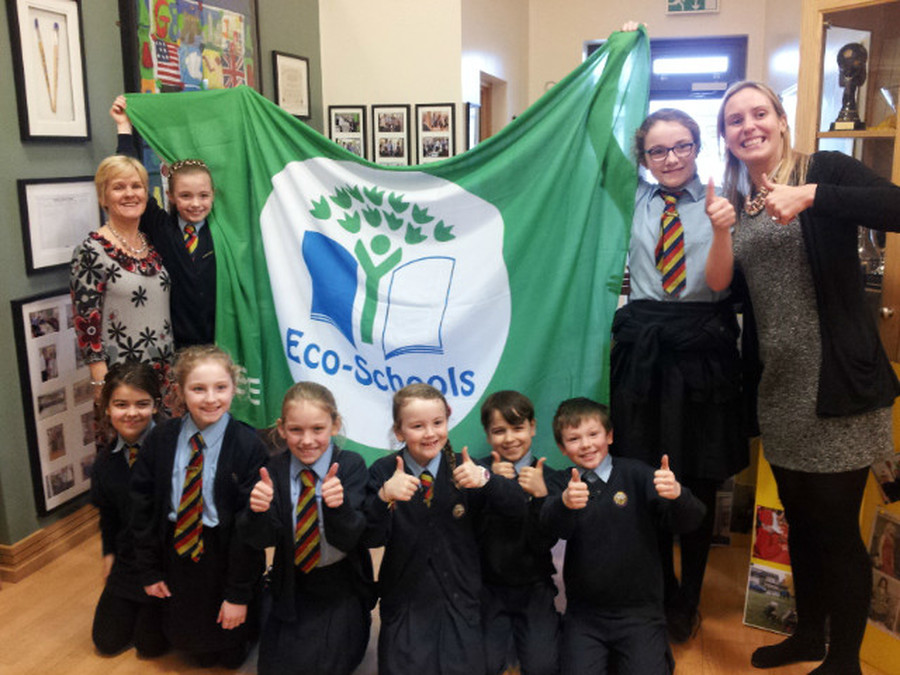 Youth Speak Competition. Courtney and Moya Year 7 recently took part in an Environmental Youth Speak Competition in the Townhall in Enniskillen. This was a public speaking event where the girls had to compose a story from the heading "A day in the life of an Eco-Superhero." The girls spoke really well. We are so proud of you both.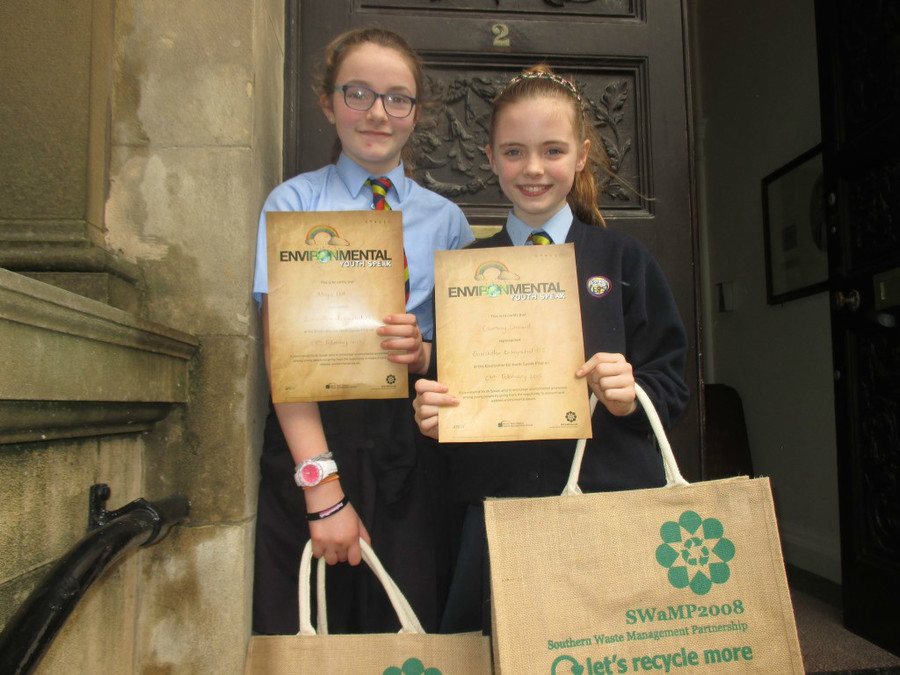 As part of our Food topic Year 3 made bird cake. Mr Mc Caffrey and the Year 7 pupils helped us hang the bird food from the trees.We also put the bird cake inside bird boxes that the Year 7 pupils put up in November 2013.
Year 3 used recycled materials to make our own instruments and had a parade around the school to show case our 'Really Rubbish Orchestra'.
Year 6 - Invasive Species Workshop with Derrygonnelly Field Study Centre.
THANK-YOU to all the volunteers that helped out today with our clean up morning. It was much appreciated! An amazing result. Have a look at what all we got done.
In the recent Fermanagh District Council 'Stop the Drop' litter poster competition Elise Breen P.6. was the overall winner, throughout all of the primary schools in Fermanagh, . Her prize included a swimming trip for her class, a large green recycling frog bin and treats. Her winning poster will not be made into a mural and displayed at the recycling centre in Irvinestown. Well done Elise.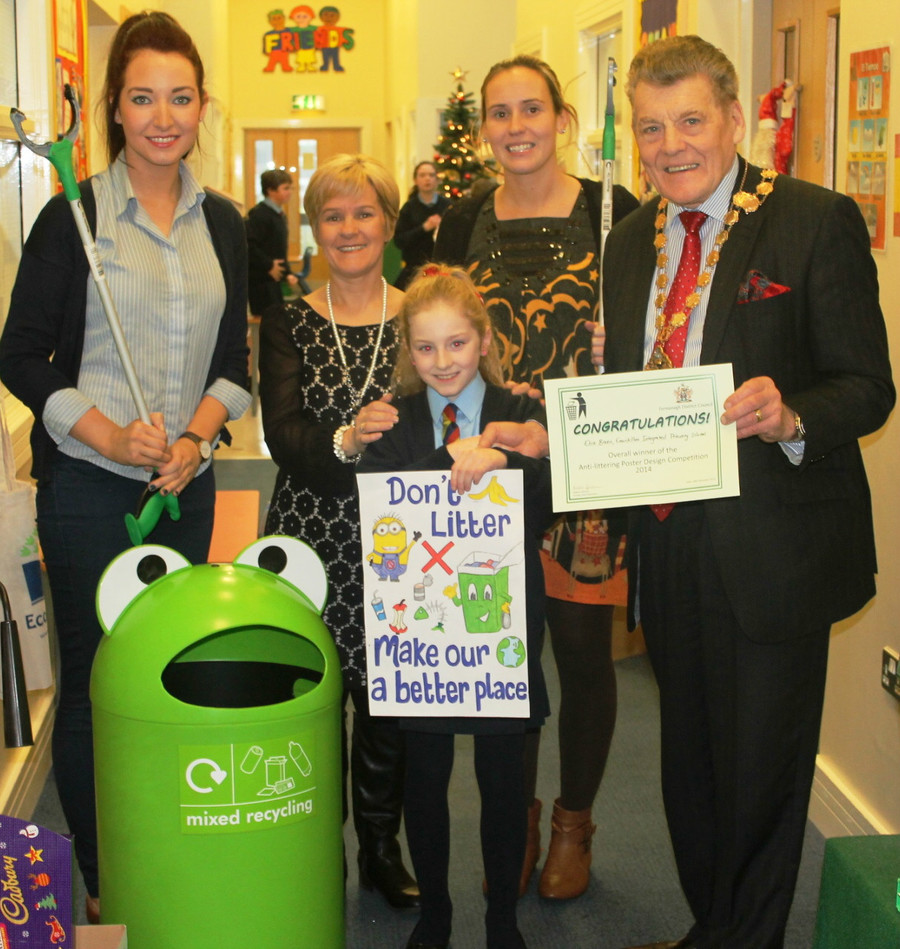 P.5 children joined with the Integrated College to do some litter picking. A very successful afternoon.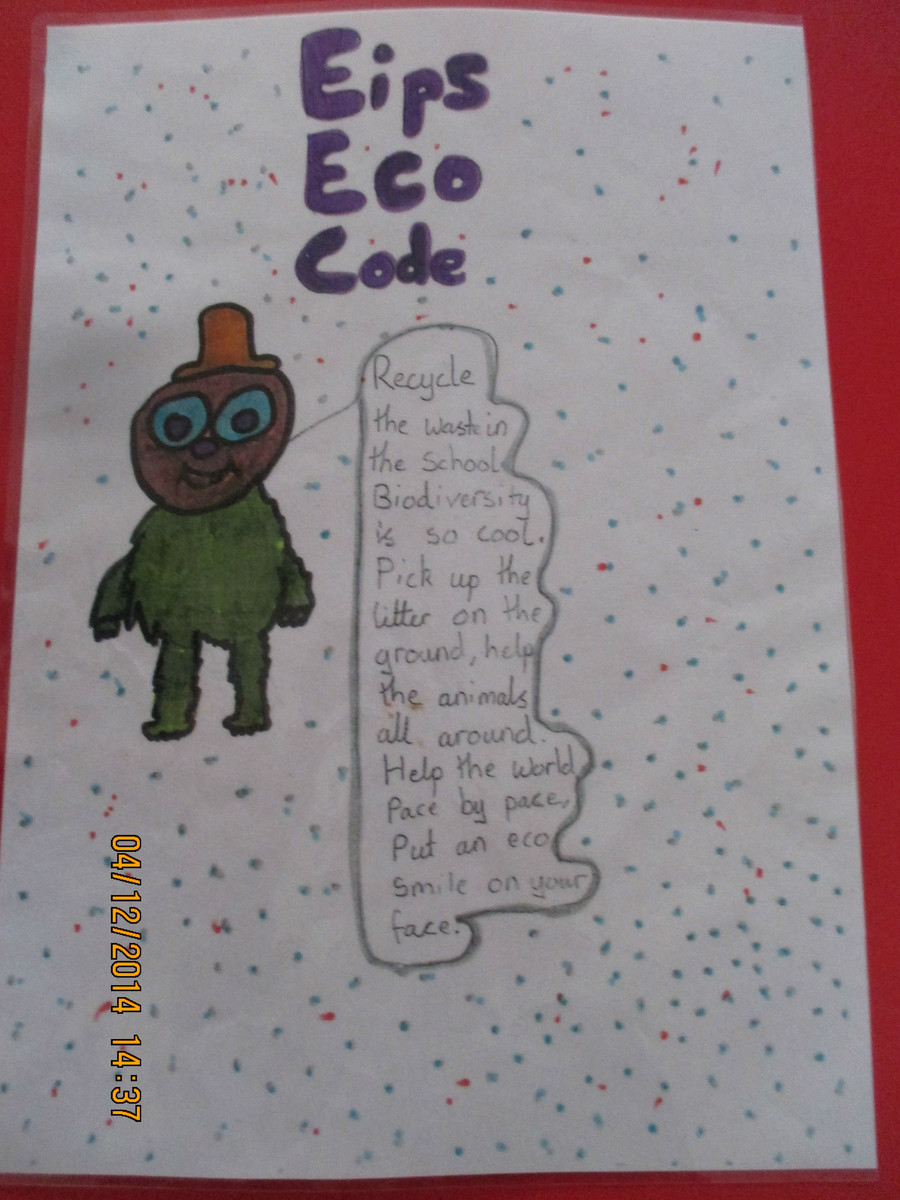 We had a visit from Ann-Marie Cox this morning. She is the Waste Education Officer in the Fermangh District Council. She told us about the growing litter problem in Fermanagh and how we can help by recycling in our home and at school and how to use our compost bin.
Power down Thursday was a great success. The children made posters to make everyone aware of reducing electricity. Remember we are all looking for a green bulb on our doors to show that we have turned out all of the lights and computers when we are not using them.
Big News... Year 1 have been busy making a home for a hedgehog
Jamie and his uncle helped us to make it. We brought it to Year 3, Mrs O'Donnell was very happy!
We brought the hedgehog's home out to our garden. We put leaves and moss inside it. We will check it regularly throughout the winter.
Putting our garden to bed for the winter.
We had a whole school gardening day in May. Each class has responsibility for planting in either the garden or the polytunnel. We have planted peas, beans, cabbage, potatoes, onions, pumpkins, carrots, lettuce, radishes and herbs. We are busy in our classes watering and weeding our plants.
The Eco Team awarded every class as well as the staff with a
Recycling Reward Certificate
for collecting recycled materials around the school.
Well Done Everyone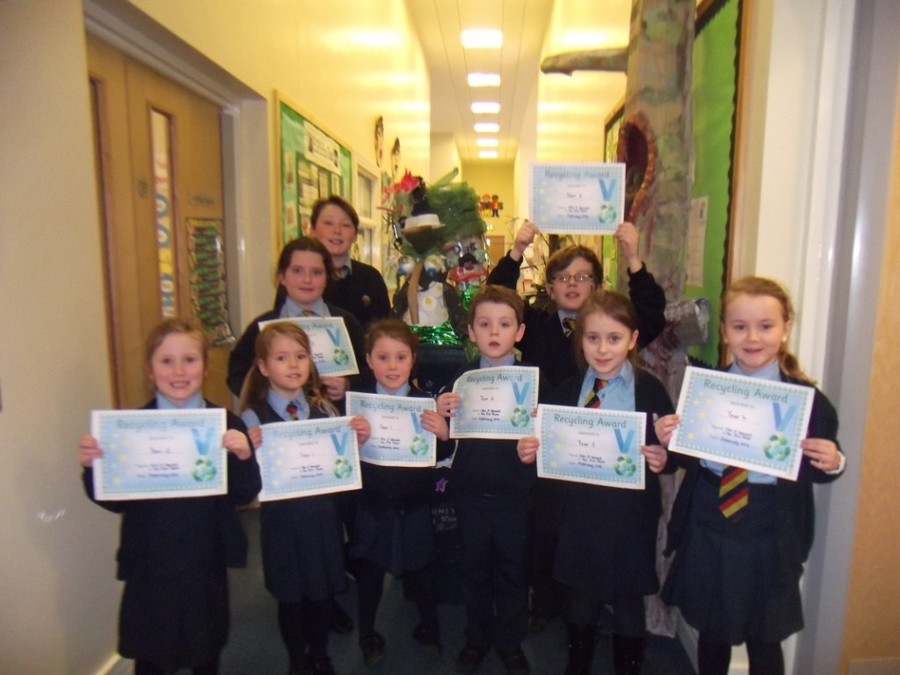 The materials were used to create a Blue Bin character for the Fermanagh District Council Recycling Competition in March.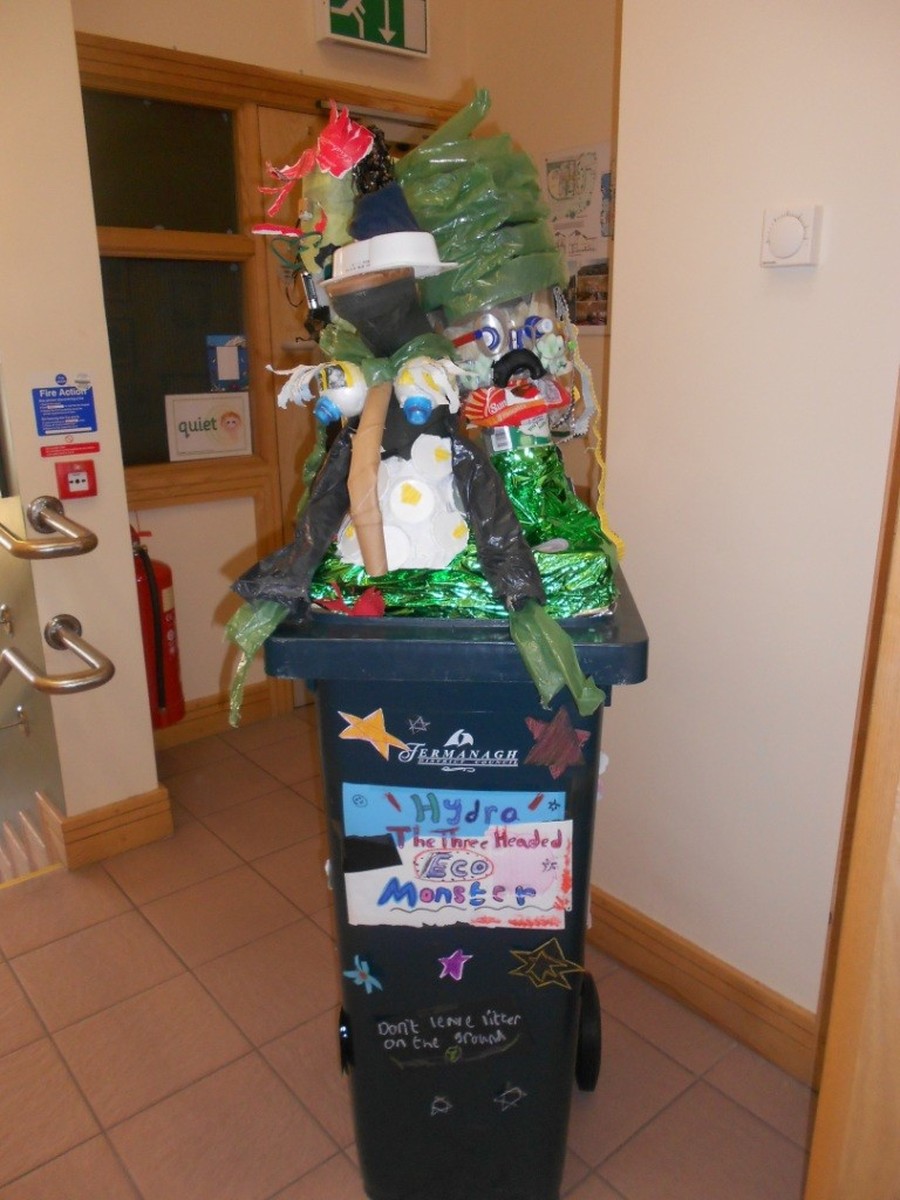 We are getting ready for
The World's Biggest Coffee Morning

Year 1 NC are busy making table decorations.
We hope you like them.